Two revolutionary products of Durkee sparkled CHR2017
Shanghai- April 12-14, 2017 The CRH expo 2017 was inaugurated at Shanghai New International Expo Center with great enthusiasm. Durkee(China), as a regular exhibitor, have consistently taken part in the show during the past 12 years with innovative products and technology in each section.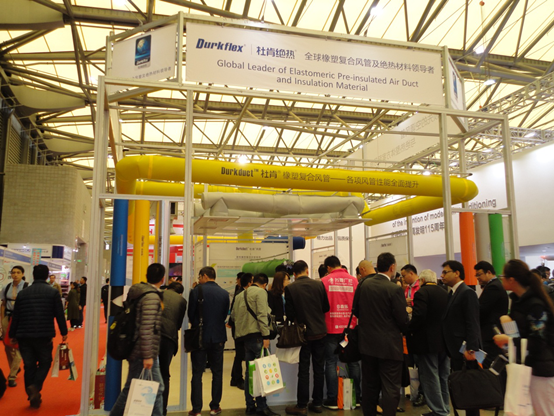 CHR2017, the amazing new creations of Durkee highlighted the exhibition hall. Durkduct system and Fiberflex became the super star in the exhibition, and visitors were eager to ask questions about how does durkee realize BIM design technology and green building concept in the solution.



Durkduct Integrated Elastomeric pre-insulated air duct solution


Based on the concept of BIM modularization and green building, Durkduct system owns incomparable Features: Standardized factory fabrication; one site modular assembly; Quick and easy installation; all round performance improvement; Durkduct is able to be used in both open ceiling space and ceiling space.





Fiberflex: High-fire proofing elastomeric composite thermal insulation material

Fiberflex is high fire-proofing elastomeric composite thermal insulation material, using non-flammable and diversified outer insulation material with optimal performance to composite with elastomeric thermal insulation by patented flexible fusion technology. It can be applied into all fields because of its highest fire safety and best comprehensive performance.





Transformation creates opportunities, Innovation embrace the future. As a dominant leading brand and A/C ducting and thermal insulation integrated solution provider and advocate in HVAC/R industry, Durkee will lead the industry toward a promising future with greater green benefits and more intensive and sustainable development.






---